After having to postpone the 2020 edition to July 8th, 9th and 10th, 2021, today we get to know the first artists that will perform in Cruïlla 2021!
Two Door Cinema Club, Kase.O, Residente, Morcheeba and Of Monsters and Men are just some of the 17 names that start building the 2021 line-up. But there's more to come, many more!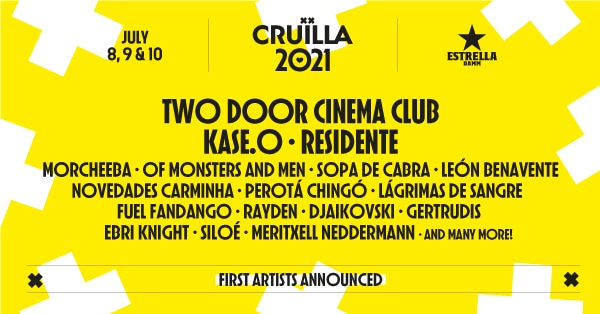 Most of the 2021 line-up consists of the artists that were supposed to perform in Cruïlla 2020. There are also some new additions, like Gertrudis or Sopa de Cabra, a band that will move from Cruïlla de Primavera to the summer festival.
Cruïlla 2021 is already taking shape and looking good, but we keep working to add more artists. Cheer up, we will soon be back going to concerts together!
---
Do you have tickets for Cruïlla 2020? We remind you that all the tickets and passes will be valid for Cruïlla 2021. Don't worry about the days, as we will do our best to allow you to see the artists you like.
Can't attend Cruïlla 2021 or want to make changes? If you have bought a ticket or full pass, you will receive an email with all the available options at the end of May. We'd like to remind you that, if you choose an alternative option to a refund, you will be helping us move forward 🙂